Our railway, the oldest established heritage railway in ireland, is located in the grounds of stradbally hall.
Beside the rally field, and point-to-point race course.It was constructed in stages between 1969 and 1982 entirely by voluntary labour. Many of those who participated in this arduous task were full-time permanent-way workers from Coras Iompar Eireann, now Iarnrod Eireann. Through their efforts we have a well laid track and they continue to guide us with maintenance and renewals.
The railway is a very popular attraction in its own right as well as being the only steam-powered activity for public participation during the rallies. The track gauge is three feet (914mm), the same as most of the former narrow gauge railways which are firmly embedded in the folklore of the remote areas of Ireland which they once served.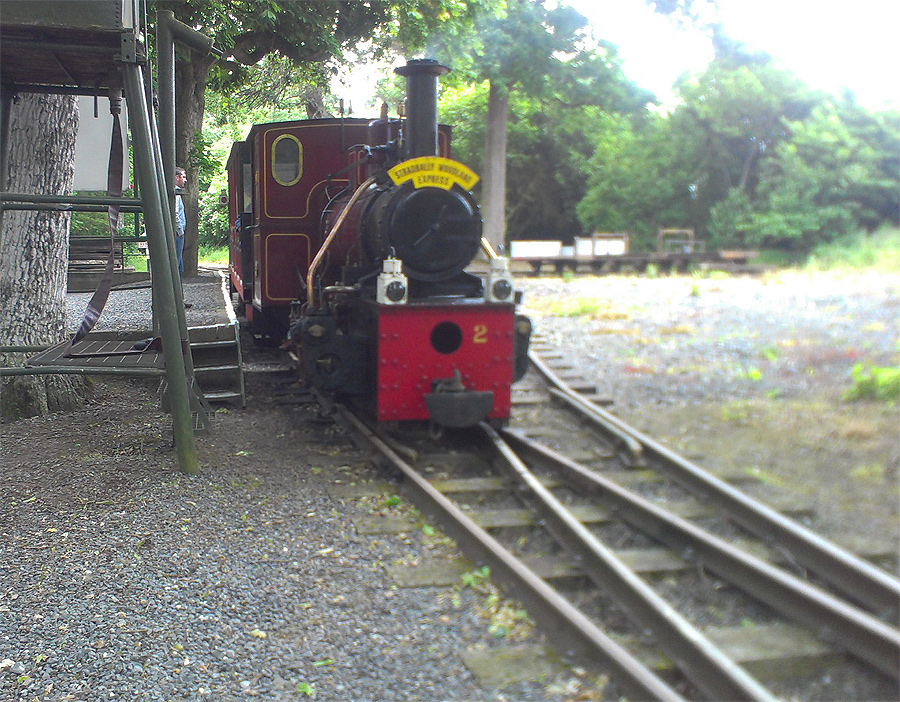 Our passenger trains are hauled by a steam locomotive. The veteran diesel locomotives are also available when required. The line is open to the public on all Bank Holiday week-end Sundays and Mondays from Easter to October and on selected other days in connection with other local events. 
Dates are shown on the Home page. Special workings, for visiting parties, can be arranged by negotiation given reasonable notice, preferably at week-ends. Contact the ISPS Ltd, The Green, Stradbally, Co. Laois, Ireland. 
Trains are operated by a steam locomotive; however, diesel locomotives are also used. The duration of the train ride is approximately 15 minutes, but please also feel free to ask the very helpful voluntary staff any questions you or your children have.
The 'Stradbally Woodland Express' operates on the following days throughout the year:
Easter Sunday and Monday;
May Bank Holiday weekend;
June Bank Holiday weekend Sunday & Monday;
National Steam Rally — first Sunday and Monday in August every year;
Cost: €3 for children (< 2yrs) €7 for adults (< 16yrs)